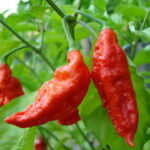 Bhut Jolokia Chilli Seeds *Ghost Chilli* (C. chinense)
Bhut Jolokia Chilli Seeds *Ghost Chilli* (C. chinense)
$8.95
$8.95
Description
Additional information
Reviews (0)
Description
Bhut Jolokia chilli seeds are also known as the Ghost Chilli. The Bhut Jolokia chilli held the Guinness World Record for the hottest chilli in the world from 2006 -2011. They were tested at the New Mexico State University Chile Pepper Institute at 1,001,304 SHUs. This means they are about 5x hotter than a habanero!
The pods are known to have a distinctive and delicious flavour – and then the heat builds up! The pods can grow to about 6.5 cm long by 2cm wide and have a pimply/bumpy evil appearance!
Check out our blog for advice on growing chillies from seed.
20 chilli seeds per packet
Additional information
| | |
| --- | --- |
| Weight | 2 g |
| Dimensions | 5 × 3 × 0.6 cm |